Tying the knot has evolved over the years and couples these days have more freedom with regard to the themes and elements they want to pursue for their big day. Traditionally, the colour white was exclusively reserved for the bride and groom. In modern times, rules have become more flexible with alternative wedding themes becoming more and more popular, and that includes all-white weddings.
All-white weddings are favoured for their fresh, clean, and ethereal vibe. The monochromatic approach is versatile and can be used for different types of celebrations — from casual shindigs to glamorous affairs. White also fits just about any venue, whether it be indoors or outdoors; and any season, from summer to winter.
One of the major challenges of going all-white for a wedding is the wedding party attire, as for this wedding theme, it's not just the bride who'll be wearing the colour white. Getting overshadowed and blending in the background is entirely possible if the styling is not done correctly. But fret not, there are plenty of ways how you can pull this off without your entourage taking the spotlight away from you. With the right strategies, you have your all-white wedding without fashion mishaps.
Here are some wedding tips and tricks on how you can dress up your nearest and dearest in white without getting upstaged:
All-white Wedding Styling Tip 1: Dress your entourage in a different gown silhouette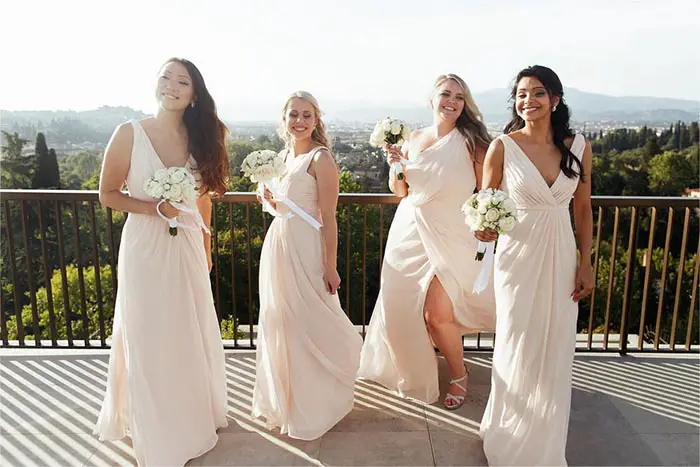 One of the best ways to set yourself apart from your bridesmaids is by dressing them up in a totally different cut or style of outfit. Instead of the usual dress, the bridesmaids can wear sleek white jumpsuits or chic white separates. If you still want them to wear gowns, have them wear uniform frocks that are not similar to the style of your wedding dress.
All-white Wedding Styling Tip 2: Doll up your entourage in different dress lengths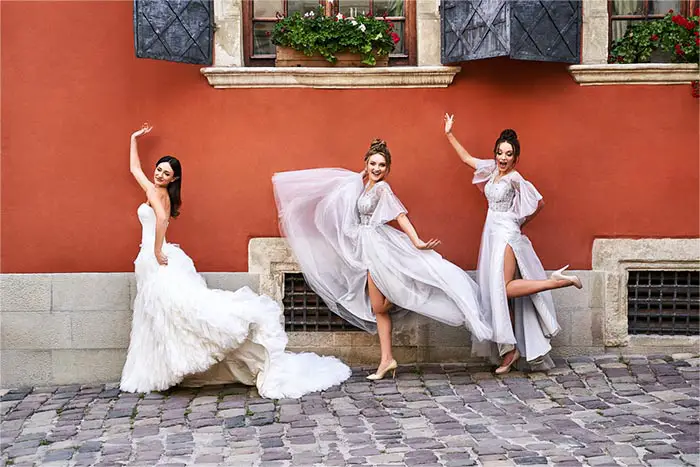 If you don't want to dress your girls in pants, go for dresses that are not similar in length to your wedding gown. There is a wide selection of short bridesmaid dresses they can rock on your big day. Head to Cicinia for heaps of options.
All-white Wedding Styling Tip 3: Prints are your friends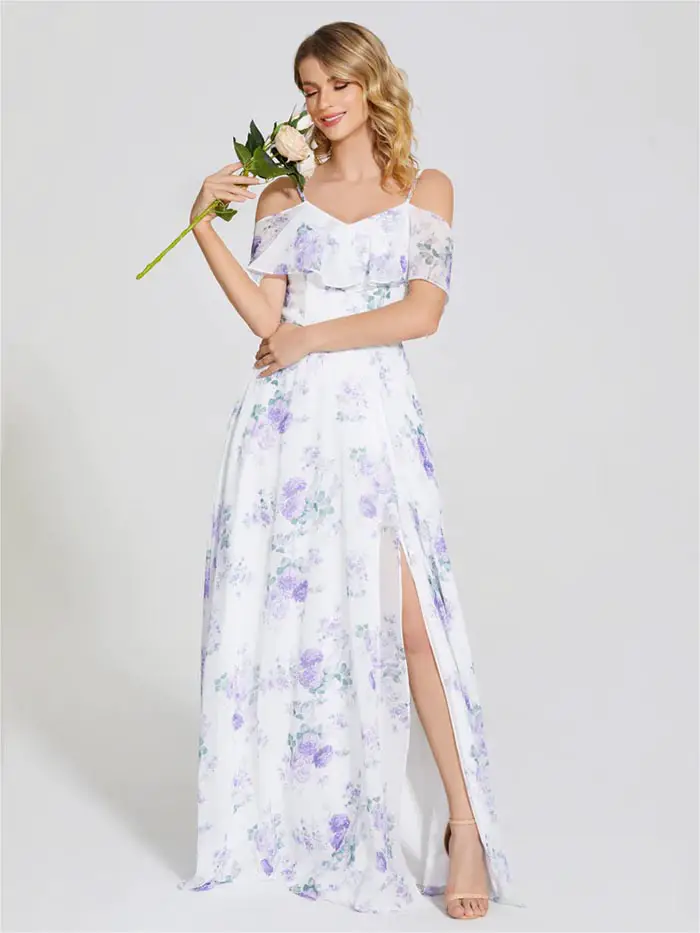 It is your wedding so you can bend the all-white look a little bit by exploring prints for the wedding party's attire. The dresses will still be white but to establish a distinction between you and your girl squad, theirs could be with subtle prints.
All-white Wedding Styling Tip 4: Embellish and bling up your wedding gown
Instead of the bridesmaids, you as the bride can use styling tip 3 to your advantage by keeping theirs plain and white while you embellish your bridal gown with coloured crystals, beads, and even embroidery. Let your creativity run free with the design and the elements that you can add to bling up your gown.
All-white Wedding Styling Tip 5: Use a different type of fabric for your bridesmaid dresses
Another trick to standing out among your wedding party is by choosing the right fabric for their outfits. If you'll be wearing a lace bridal gown, you can assign them tulle or chiffon bridesmaid dresses instead. Aside from the obvious difference in the material, the varying fabric textures will create a nice contrast to the whole all-white look.
All-white Wedding Styling Tip 6: Try a different shade of fabric for the entourage
Instead of choosing the same white colour of your gown for your bridesmaids' dresses, you may pick a different hue of fabric for them. Other shades that still fit an all-white wedding include ivory, pearl, rice, powder, chiffon, bone white, and cream. Aside from you standing out, doing this will also add a dimension to your overall wedding aesthetic.
All-white Wedding Styling Tip 7: Add simple accessories to the entourage's attire
Accessorizing is one of the best ways to create a distinction between you and your bridal entourage. You can have all the girls don similar dreamy flower crowns or chic hats. Or you may gift them similar hair clips that will create uniformity in their overall bridesmaid look. Lastly, as part of their look, have them carry bouquets with white flowers totally different from the blooms used in the bridal bouquet.
All-white Wedding Styling Tip 8: Exclusive hair and makeup look for the bridesmaids
This hack doesn't necessarily mean that all your bridesmaids must look exactly the same, it's just setting a standard to create a cohesive appearance (different from your bridal makeup) that will help indicate and pinpoint that they are indeed part of the female entourage. One example is that all of them must have their hair in an updo (if the bride will wear her hair down) or each girl must go for smoky eye makeup. Just subtle hints that they are part of your female wedding party.
##
With love,
FWO