How Diobox is Transforming the Way Fashion Shows Are Organized
Allen Nasseri is a man with a mission. If you've ever organized an event, you know the exhaustion that comes with managing multiple moving parts from multiple touch points, services, even computer applications. Nasseri's Diobox is set to change all that, with an application that bundles many needed functionalities together, and that actually works.
 
Q: What's your background? How did you get started in event management, and how did it inspire the creation of Diobox?
By training, my background is in media and technology. At the same time, I've been involved with events management in different industries for more than a decade. Before Diobox, I was running marketing and event production at Newsweek and The Daily Beast. We hosted a lot of events in NY, DC, LA, and abroad. They ranged from intimate receptions for our magazine covers, all the way to red carpet events at Lincoln Center with more than 2,500 guests.
The process at all the events was a nightmare, from a logistical point of view, and we had SNAFUs at every stage of the planning (which is standard regardless of the industry). So I decided to leave my job and create a product for solving the mess that is event planning.
I decided to leave my job and create a product for solving the mess.
 
Event Horizon
 
[portfolio_slideshow id=17666 align=center width=600 click=advance thumbnailsize=40 showcaps=true]
Q: So what does Diobox do, and how does it solve some of the logistical nightmares of event planning?
Diobox simplifies the event management process by providing access to five core functionalities in a single platform, covering the entire event life cycle. Having access to these tools help eliminate the use of multiple products for hosting an event. The core functionalities are:
1. Guest list management and guest profiling
2. Emails: invitation sending with real-time delivery tracking
3. RSVP pages that are uniquely customized for each guest
4. Tables and seating assignment with support for waitlists
5. Check-in and door operations with support for plus-ones
Q: What makes Diobox unique from other products?
Diobox is the first consumer event product that includes a built-in module for Client Relationship Management (CRM), storing guest preferences and guest activities.
The Diobox CRM also tracks guest history across events and provides meaningful analytics in a "Guest Scorecard" screen.
For example, if the same guest is invited to more than one event, Diobox will automatically reveal the number of invitations, total spend, attendance records, and even "no-shows." This data provides invaluable insight to the event staff, helping them make smart decisions on the spot.
Q: What other features or advantages does it have?
For one, real-time sync between multiple iOS devices and the web app. You can merge duplicate guests through the import process. There are also "common-sense" permissions and privacy settings. For example, it hides sensitive guest information from the door staff.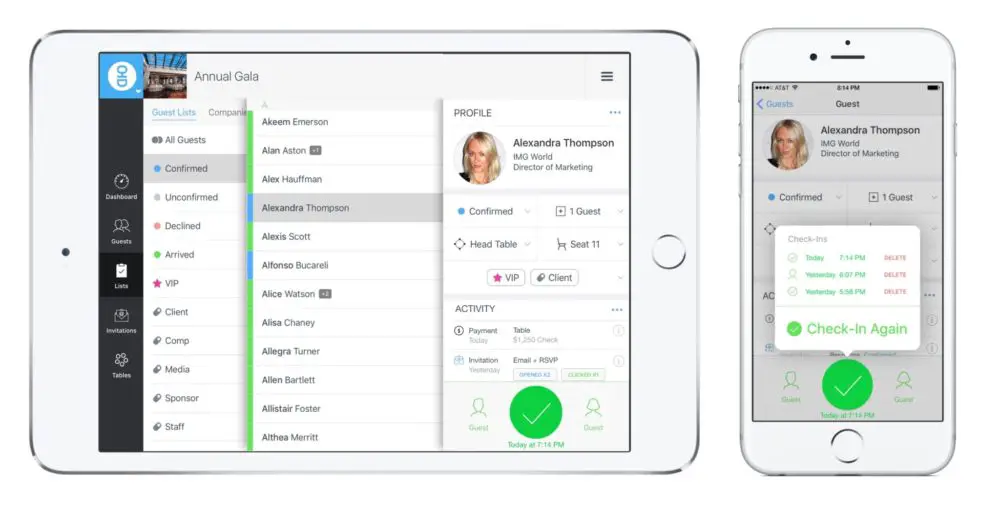 There are also "auto-enhanced" guest profiles: using guest email addresses to obtain photos, names, titles, companies, and social links.
And "offline mode" allows users to work without an Internet connection, as Diobox stores all changes locally, and automatically syncs as soon as the device is reconnected –- all without interruption.
It hides sensitive guest information from the door staff.
Q: So who uses Diobox?
 
Diobox is a relatively new product when it was launched in Q1 2016. It has been used at a number of industries, including nonprofits, nightclubs, fashion, film festivals, and corporate events.
Q: Why did you launch it now?
 

The event software space is crowded, which leaves many customers confused.
There are ticketing platforms, which help with generating revenue and selling tickets. Then there are basic check-in apps, which are used at private events. But these apps are primitive and not very easy to operate. The user is required to upload a confirmed list first, and then use the app for check-in. This import and export process creates a lot of data duplication and data fragmentation. It also requires using spreadsheets and third-party email marketing systems, which makes the problem worse. Finally, we have industry-specific products like FGPS. They include a lot of great features but are quite expensive and not affordable for smaller brands (FPGS is known to charge $400/user/month, with a minimum requirement of 3 users).
Diobox aims to provide an affordable event management solution that is industry independent. We also focused a great deal on the user experience to build a product that is simple and intuitive, while providing advanced features. More importantly, all of these features are built into our iPhone and iPad apps (unlike basic check-in apps). We want our customers to focus on their events without having to learn a new product or worrying about the backend technology.
Diobox aims to provide an affordable event management solution.
Q: How much does Diobox cost?
 

A free version is available for events up to 50 guests. Paid plans start at $79/event and can be purchased on the web app or through an iOS in-app purchase. Subscription plans are also available for unlimited events.
Diobox provides the functionality of multiple products while costing less than any one of them. For additional pricing information and a compare chart, see: http://www.diobox.com/pricing.
To help independent producers, we are providing a 15% discount until the end of Fashion Week in partnership with FWO.
We are providing a 15% discount.
##
Learn more
To save 15%, see www.diobox.com/fashion-week.
With love,
FWO