Silent in the Nest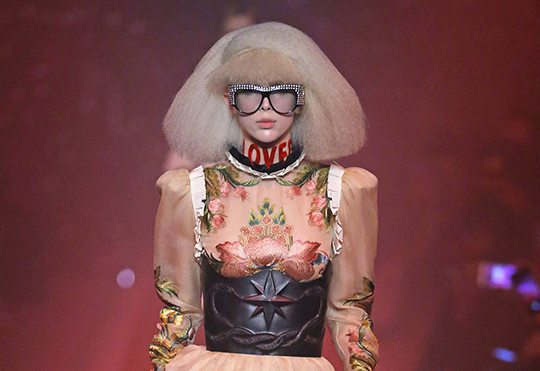 Personal vision is perhaps the most valuable quality of any artist. The interesting thing about personal vision is that, on an artistic level, it cannot fail. It cannot fail simply because it is honest, and all "truth is beauty," to paraphrase John Keats: which means that all honesty is success: even if that success can't be measured as economic gain, or even in the good it brings (or fails to bring) to the world.
For SS17, Alessandro Michele presents a collection seemingly created by children combining things from a parental closet, who have then fallen through the looking glass. And if the looks are somewhat reminiscent of Elton John, 18th century aristocratic culture, or perhaps the ruling class of The Hunger Games, all references are valid, because the looks clearly align in some personal universe.
The backdrop of the collection is "Night" by William Blake, a poem that contrasts the purity of heaven — the world children still inhabit — against the dangerous world of Earth. The poem is a metaphor for childhood itself (or at least, for fortunate childhoods) where danger is kept at abeyance, and a sense of safety allows for personal expression and exploration.
The poem is a metaphor for childhood itself.
The collection — like the poem — speaks of our imaginations run wild, before more pragmatic goals, societal pressures, and quest for acceptance can hem us in.
Or before, as T.S. Eliot wrote, "Mortal voices wake us, and we drown."
##
With love,
FWO
491. Night
The sun descending in the west,
The evening star does shine;
The birds are silent in their nest.
And I must seek for mine.
The moon, like a flower
In heaven's high bower,
With silent delight
Sits and smiles on the night.
Farewell, green fields and happy grove,
Where flocks have took delight:
Where lambs have nibbled, silent move
The feet of angels bright;
Unseen they pour blessing
And joy without ceasing
On each bud and blossom,
And each sleeping bosom.
They look in every thoughtless nest
Where birds are cover'd warm;
They visit caves of every beast,
To keep them all from harm:
If they see any weeping
That should have been sleeping,
They pour sleep on their head,
And sit down by their bed.
When wolves and tigers howl for prey,
They pitying stand and weep,
Seeking to drive their thirst away
And keep them from the sheep.
But, if they rush dreadful,
The angels, most heedful,
Receive each mild spirit,
New worlds to inherit.
And there the lion's ruddy eyes
Shall flow with tears of gold:
And pitying the tender cries,
And walking round the fold:
Saying, 'Wrath, by His meekness,
And, by His health, sickness,
Are driven away
From our immortal day.
'And now beside thee, bleating lamb,
I can lie down and sleep,
Or think on Him who bore thy name,
Graze after thee, and weep.
For, wash'd in life's river,
My bright mane for ever
Shall shine like the gold
As I guard o'er the fold.'
William Blake