---
Day for Night: Masha Ma FW16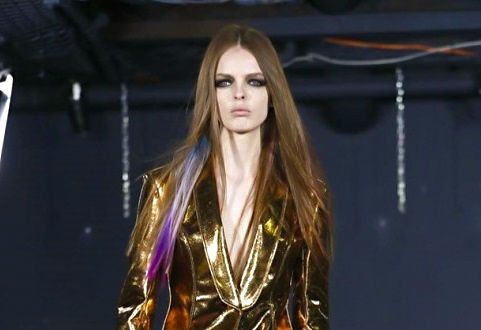 H
aving worked under the likes of Alexander McQueen and Veronique Branquinho, Chinese designer Masha Ma is hardly a stranger to what's edgy and new. She is what one could call "forward-thinking" — forever pushing the boundaries of the status quo.
(Photos: Regis Colin Berthelier / NOWFASHION)
 
A Look at the Collection
[portfolio_slideshow id=13130 align=center width=600 click=advance thumbnailsize=40 showcaps=false]
For her FW16 prêt-à-porter collection, Masha Ma draws from "the techno underground scene" with pieces that echo Berlin's East Side or a sleek, rave look. Certainly, the grimy-chic aura most nightlife goers embody as they slither through masses of clubbers isn't one that normally transitions well to daylight, as most regretful partiers will attest to on a walk home in the blinding morning sun.
Masha Ma draws from "the techno underground scene" for FW16.
Masha Ma's aim to transition nightlife vibes to daytime acceptably is a bold pursuit, one that she attains through a fusion between classic, yet notably androgynous, silhouettes and futuristic pieces. Models with purple, pink, blue, yellow, green-tinged hair and black-rimmed eyes resemble groupies … or one's own face after a wild night.
Figuring prominently in the collection, blazers and suit pieces made their way to the runway, looking more like Friday night than Monday's nine to five. I noticed a pair of leather pants, pleated as a nod to professional wear. An all white suit with zipper-detail at the knee and on the blouse diverged from the classic suit.
Chains and mesh from sweaty, strobing dance floors worked as sophisticated detail for monochromatic and clean ensembles in lieu of their usual commanding presence. Instead, they complimented the simplicity of the design, giving us a peek where otherwise the door would be obstinately closed.
Chains and mesh from sweaty, strobing dance floors …
As with many shows this FW16 prêt-à-porter season, high to thigh-high boots appeared on Masha Ma's runway, almost in go-go boot spirit. And if not for the sophisticated cut of her golden accents (along with the choice of a rusty gold color), I would have said the '60s and '70s were back in full swing.
Besides the fluidity of nightwear and daywear in Masha Ma's collection, the designer gives the power of her clothing to the wearer, the sleeves on some pieces able to be removed or added as one pleases. Not to mention the versatility of decidedly adaptable clothing; the jackets and blazers don't command the wearer's size or occasion, existing to serve varying outfits for varying styles. The designer, expressing her desire for the individual to be served above all else, presents to us a collection in the spirit of modern globalism.
Who better to represent sartorial crossover than a woman based in both Paris and Shanghai? Having studied under a Western tradition of fashion schooling and with a background in an Eastern culture, Masha Ma has insight into clothing's ability to cross boundary lines and cultural traditions as a universal — yet personal — expression.
Masha Ma wants to redesign the way you think of Chinese creativity, but she also cedes to the desires of an individual wearer. After all, isn't that the essence of globalism: individualism with a broadened worldview?
##
 
With love,
FWO