In 2022, Weijing Xiao's cyborg-themed couture design was acquired by Cristóbal Balenciaga Museum's permanent collection, becoming the first deal of its kind in the museum's history. Soon afterward, Weijing released their designer profile and couture collection MOTHER on CFDA Runway360 at this past New York Fashion Week. On a chilly morning in late December, as the white-throated sparrows migrate south, we visited Xiao's studio at Lower East Side, on a quest to uncover the story of MOTHER.
Xiao's studio is a sanctum of novelty objects straight out of the Holy Mountain by Alejandro Jodorowsky, quietly emerging and energy-exchanging amongst one another. A 14-instrument birdcall box set by Bjork stands next to the photography Apocalyptic Sky Over Manhattan by Nan Goldin. Under the monitor of four crystal-embellished bird adornments, three meticulously sculpted figurines created by Hieronymus Bosch rest still. Towards the window resides a mini laboratory of magnificent aves world – thermal bubble birds, muslin birds, chrome vinyl birds, plastic birds, fully-fashioned and unfinished birds. In Xiao's MOTHER, multiple bird-like motifs are threaded through the design with a delicate level of sci-fi absurdity.

Q: When did you start 'breeding' your birds? And why?
A year ago, I came across this campaign named Birds Aren't Real – Birds existed once upon a time but were later erased by governments and replaced with drones to monitor the public. It is a metaphor and analogy on many levels, and it was extremely relevant to my research at the time – relationships between the natural and the cyborg. So almost immediately afterward, I started making my birds.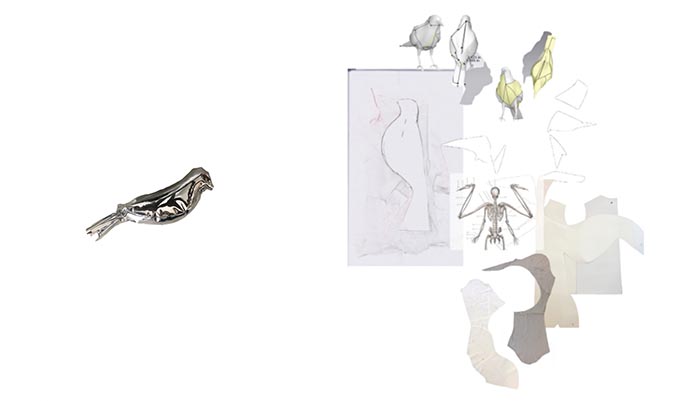 I downloaded bird models and flattened the bird skin into patterns through Clo3D. I then used a variety of materials to cut, sew, and mold the birds into this reality. This one made of mirror vinyl turned out like a metal device, while this other half-constructed burnt velvet one ended up resembling a fetus stuck between the membrane of a broken egg. I was also studying falconry gloves that humans wear when they train vultures and adapted this special construction at the thumb that allows flexibility. I enlarged it in scale and applied it to the sleeve construction for two of my dresses. They are becoming a big falconry device.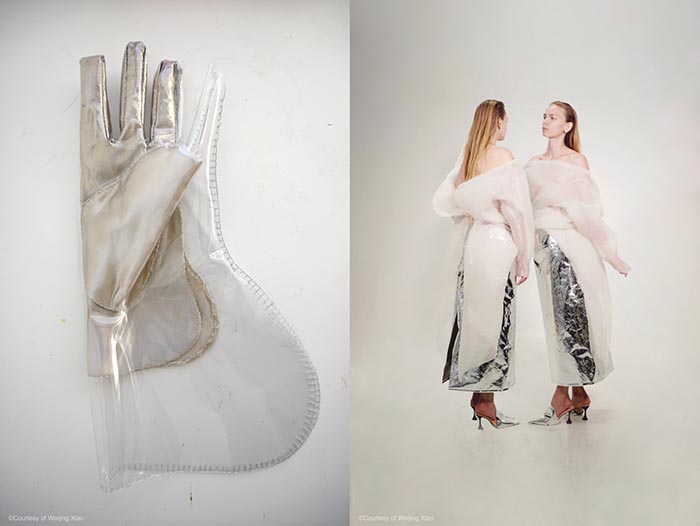 Q: All the fabrics you employed are uniquely in flow with their shapes, from the bird fabric sculptures to couture garments. How did you choose all your fabrics?
I am obsessed with fabrics with different sheens – from mirror vinyl, metal fiber brocade, to semi-sheer sequined burnt-velvet and Teflon-finished georgette. Everything exists between organic and industrial. When it behaves confusingly stiff and structured, it can in fact be natural fiber; when it looks wooly and drapey, it might come straight from the tech-fabric lab.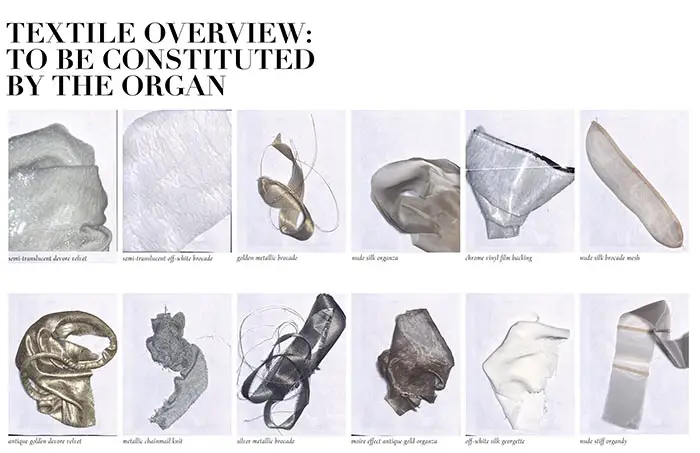 Q: That is an especially poetic way to narrate cyborg as a spectrum of blending nature and the machine. How do you combine traditional couture techniques with futuristic and conceptual ideology in this collection?
I employed couture techniques throughout the collection, from draping to special finishings. Classic, historical couture often accentuates appealing female body parts, tightening the waist, full blossom volumes, etc. My work uses the same techniques and transforms those volumes into other body sections – the back shoulder, the front of the hip, etc. There is a kind of otherworldly elegance after we remove the idea of a female constituted by the gaze of the others.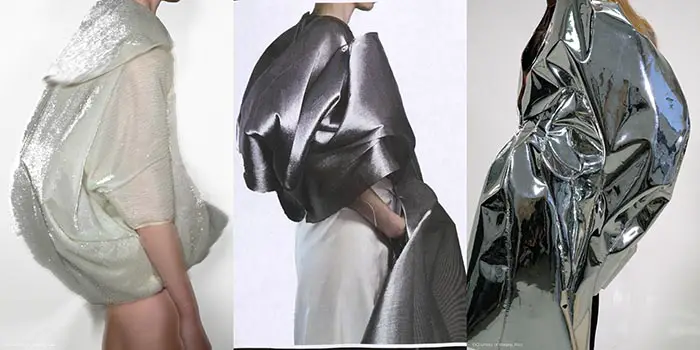 Q: Your couture design acquired by Cristóbal Balenciaga Museum, Healing Machine, and Children of the Cyborg, was inspired by jellyfish. From jellyfish to birds, from HMCC to MOTHER. Are living organisms always at the center of your investigations? Is there a conceptual connection in between?
I have always been attracted to nature and living organisms, especially ones with different reproductive mechanisms than humans. Many species of jellyfish are genderless, self-reproducing, and generating identities, which is central to how I understand and translate the idea of cyborg into my work. Cyborg initially means humans acquiring expanded abilities through technological aid, extended machinery organs, and body transformation. Donna Haraway translated this idea into activism and feminism – once female bodies embody cyborg features and liberate traits like birthing capacities, we can reach the utopia of gender equity. I treat garments poetically as such channels to this utopia.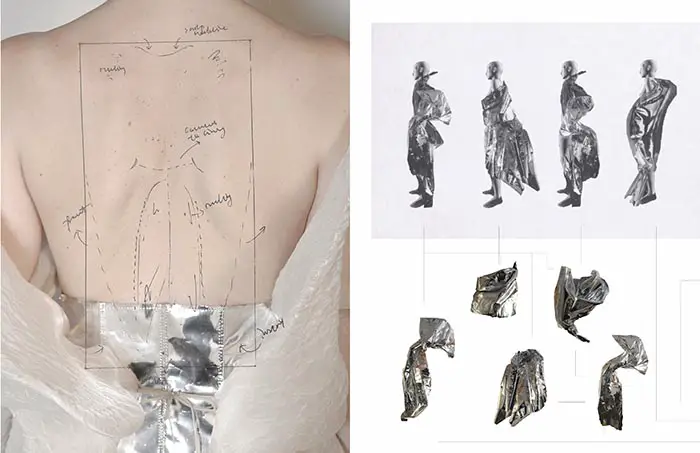 Q: In your MOTHER collection, it almost feels like you are turning humans into giant birds. What is the relationship between these elements?
Yes. It is one-half of it. The metaphor of humans being monitored and monitoring devices simultaneously. As I was studying the structures of western grebe, a kind of slender waterbird, I found that many species of female birds theoretically can carry the child in their body – Instead, they produce the eggs and hatch the offspring outside of the body. This coincides with what I mentioned above, the relationship between imitating animal structure and liberating femalehood through cyborg language. A bird shell is both a path to regaining femalehood and an agent to controlling and being controlled. By adapting the features of animals with alternative reproductive properties, in this case, birds, and redistributing female body appearance, I want to create a shell – just like the bird shell – in which the female body can dream of being transgressed into something else. My collection represents this utopian cyborg female figure who can exercise life without her nature being exploited.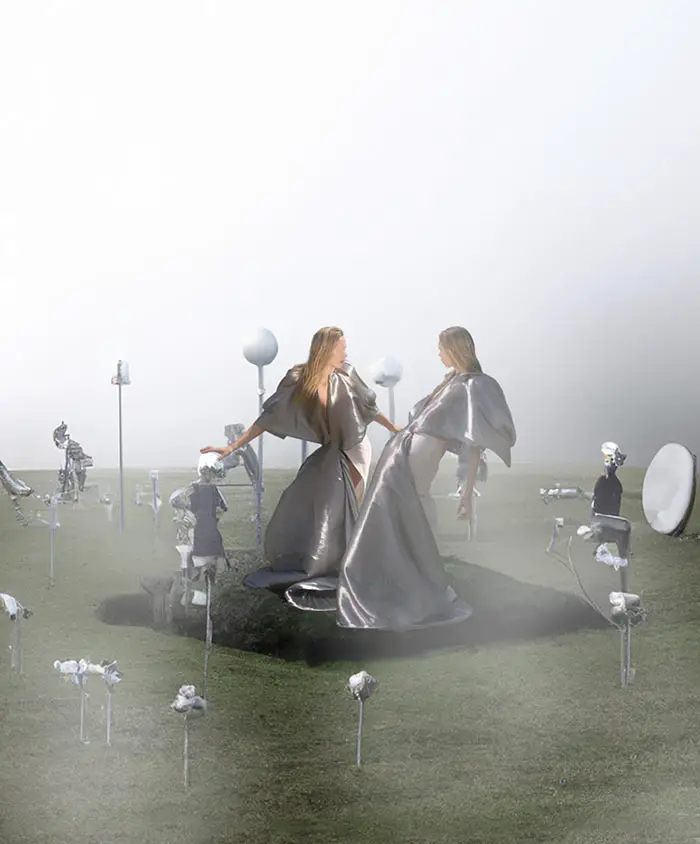 Q: Your editorial curation has a distinctive sensuality. What is the narrative you want to present through the images?
First of all, it is worth noting that the collection is situated in an operating system. It is a simulated natural landscape residing inside an electronic network. Think about Windows XP. The classic Windows XP background was an actual landscape but has come to resemble something digital, an access to the virtual world. I named it MOTHER, both to represent the concept of giving birth as a cyborg to a non-material child and to describe a centralized, multi-pathed electronic system.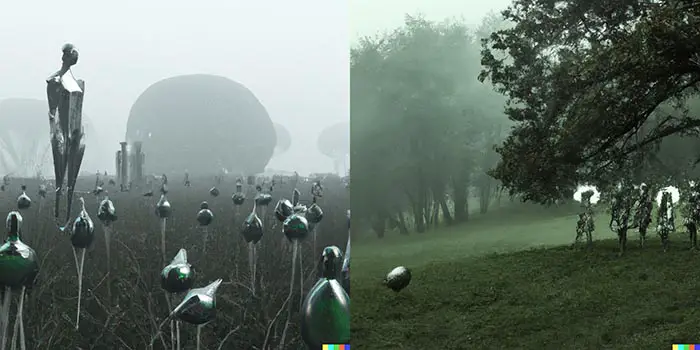 Natural Sadism. Practicing sadism to oneself, to survive a hostile environment. The electric birds (sparrows) in my collection are the agents to oversee the running of this system. The cyborg humans are the caretakers and nurturers of them, but also, they are attempting to disguise, morph, and exercise life without surveillance. We still do not know if this transformation is out of will or survival. The editorial images are to capture all these thoughts, explorations, and emotions.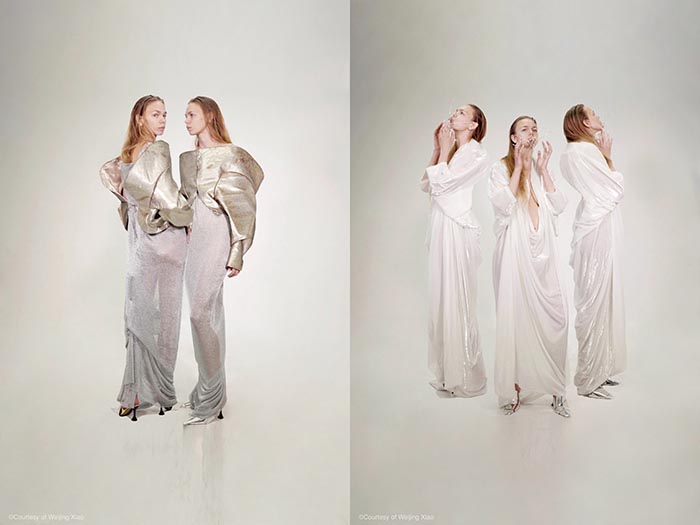 In the dystopian narrative of MOTHER, the real momentum is almost undetectable on the surface. Upon a gentle investigation, it comes out like a salty, growing blood drop after a neglected needle punch. In this system, I no longer know if a cyborg body is extending human ability or an impossible vessel that connects to only itself. Weijing led me into a fairy tale, a wonderland, and I have traveled downward to the mystical core – a laboratory of elements garnished by luring sensorium of materiality and the transfixing art of couture making.
##