Report from New York Men's Day at New York Fashion Week Men's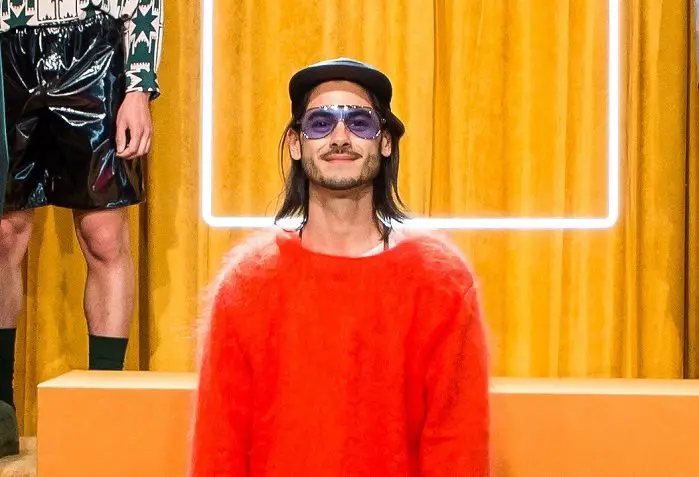 With a rich, desert color palette, the mustard-yellow backdrop brings the entire collection together beautifully, with a big, imaginary, beautiful suede bow, à la Roy Halston Frowick.
Even the distant cousin of Studio 54's "Man on the Moon" made an appearance, as a neon doorway, hung between the clusters of models.
The simple, though brilliant staging looked like a class photo of a detention hall's standout rebels, around 1976, in South London.
… like a class photo of a detention hall's standout rebels.
With this theme in mind, pile fabrics were naturally in order, like velvet and velour, though non-traditional ones made an appearance as well, like vinyl, in the shape of shorts and as piping on the heavier car coat.
Rebel Chic
[portfolio_slideshow id=15351 align=center width=600 click=advance thumbnailsize=40 showcaps=false]
I've grown to appreciate how designers are carefully presenting their interpretation of the casualization element — and here it was well executed by the intentional raw edges of the pant legs.
Stylist Ian Bradley added a touch I had experienced for the first time, of dramatic and unusual layering. One model bore just one shirtsleeve, the other tucked into his pant, and a signature print tank was exposed. We're taking this one straight to the streets readers … be ready!
Stylist Ian Bradley created dramatic and unusual layering.
One of my favorite elements of the entire delivery was designer Nicholas Elliott's pairing of warm-weather fabrics (such as cottons) with cold-weather fabrics (velvets and wools), challenging the way we ordinarily marry certain fabrics to seasons. This could possibly be a consideration of the shifting seasons in the last few years, and the need for more uncommon combinations. This could also be a move toward a "wear-now" strategy. Other great details were femme embroidery, calling to memory androgyny; very of-the-moment.
This could also be a move toward a "wear-now" strategy.
My favorite look of the entire presentation was #12: a purple velour tank with signature cross embroidery and a pair of reinterpreted striped yellow basketball shorts. The colors just come together so meticulously, and in harmony, and I feel as though it embodies the target customer as simply as possible.
In regard to footwear, K Swiss might just swing a comeback with the new awareness of footwear. At this show in particular, the kicks were presented in rich suedes, in their full glory.
Another round of nonchalant moods was served at N-p-Elliott, as though our dear rebels had not a care for what happens to them. The indifference grows. The only disappointment was the inability of the audience to see the back of the clothes, but the designer made up for it in many, many places.
##
Lots of love,
FWO