At the start of every season, women find new styles to love: tops, jeans, dresses, jackets, skirts, and accessories. While some trends come and go, certain styles will always be an essential part of any woman's wardrobe. Some of the most important pieces to consider are your tops.
You can choose from flowy tops, fitted tops, tops with a ruffled neckline, knit tops, woven tops, and versatile tops for modern women who love keeping up with the latest trends. Finding the perfect tops for your wardrobe can seem like a tall task, but it's not impossible. Whether you want to enhance your favorite styles or you're on the lookout for something new, it's important to stay up to date with the fashion tops women are loving this season. Here are a few tips to help you get started.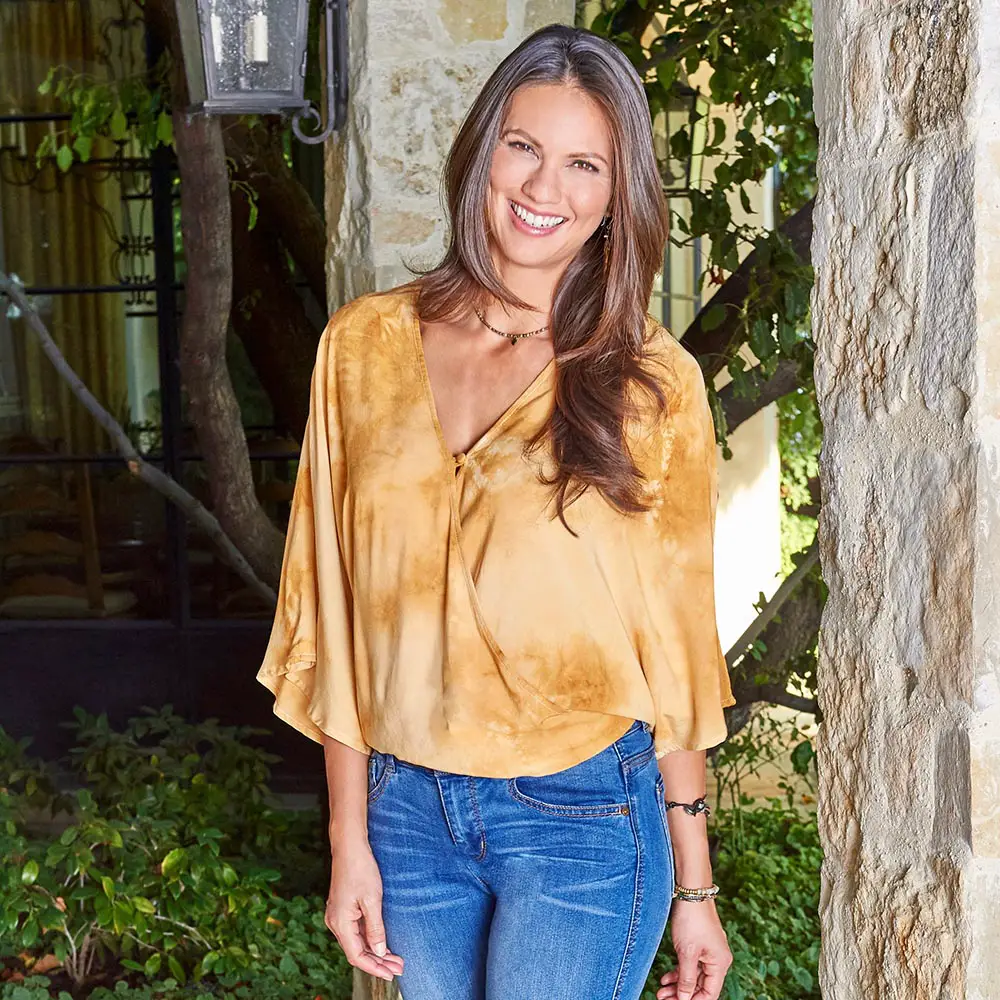 Knit vs. Woven
Before you consider specific outfits, the first step to styling your tops is recognizing whether they're made from a knit or woven fabric. Most modern tops will be one or the other.
How to Tell the Difference
A knit fabric is characterized by one yarn locked together in a knit. You probably love to wear knit fabric as your everyday tops. They're stretchy, flexible, soft, and easy to maintain because they wash well and aren't prone to wrinkles. Knit tops come in a wide variety of styles, and you will probably recognize them as your favorite soft jersey tees, cable-knit sweaters, and other comfortable tops.
Woven fabrics tend to be more rigid, like chiffon or denim. Instead of one yarn knit over itself, woven materials have at least two sets of yarn interlacing. They're structured and can wrinkle, so they might require a little extra care when washing. As a result, they are long-lasting and maintain their shape. These are tops like your dressy button-ups, lightweight fluttery chiffon tops, and other tops without much stretch.
When to Wear Them
Usually, you'll find yourself wearing stretchy knits for casual activities—running errands, doing chores, and hanging out around the house. They're incredibly versatile, and they're perfect for creating a laid-back vibe. You'll probably run to the coffee shop or pick up and drop off the kids at school in your comfy knit top.
Woven tops are another great choice for your everyday attire. However, they are also an excellent option for dinners out with the family, parent-teacher nights, and professional settings like office meetings or business lunches. You can dress them up or down, depending on your plans. You may find that wearing your woven tops in a setting where they can really stand out works best.
Flowy vs. Fitted
Now, it's time to dive into wearing your knit and woven tops. Some women prefer flowy styles, and others like a fitted top. Ultimately, they both look fantastic with a pair of great-fitting jeans.
Flowy Tops with Jeans
Flowy tops look great with almost any jean silhouette. One determining factor for which cuts work best is whether you want to wear them tucked in or untucked (but more on that later). Regardless of the fabric, flowy fashion tops women love wearing tend to offer a looser fit, enhancing the look of your favorite jeans. In fact, the denim styles you pair with a flowy top can determine how casual or dressy you look. An elbow-sleeve button-down with slimming boot cut jeans and black booties creates a different vibe than the same top with boyfriend jeans and sneakers.
Fitted Tops with Jeans
Fitted tops give more shape to your outfit, and they may be the preferred look for women who like pieces that hug their curves. A fitted top doesn't have to be skin-tight. It should simply enhance your shape more than your flowy tops. You can pair fitted tops, which are usually made from knit fabric, with jeggings, boot cut silhouettes, crop flares, and other styles.
Tucked vs. Untucked
After you've decided on a top and jeans for the day, the next question is whether to tuck your shirt in or keep things untucked. Often, it's simply a matter of preference, but there are a couple of exceptions.
Tucked into Boot Cut Jeans
If you're wearing boot cut jeans, there are very few times you'll want to leave your blouse or top untucked, such as wearing a cropped style. For styles like these that aren't meant to be tucked in, leave your top untucked. Otherwise, tuck loose and fitted tops into your boot cut jeans. It will help your legs look longer in a way that works well, whether you have a 28-inch inseam or you wear jeans for tall women with 33-inch inseams.
Untucked with Jegging Jeans
If you decide to rock your favorite jegging jeans, keep your top untucked. While jeggings have come a long way since the early 2000s and they can even look like simple skinny jeans, occasions when you should tuck your top into your jeggings are few and far between. Despite this, there are times when wearing jegging jeans is preferable to all other styles. Pair them with a flowy, modern boho top for casual outdoor BBQs. You can dress them up with woven button-ups for school meetings. Or try wearing them with a knit tee for laid-back movie nights. The untucked possibilities are endless.
Fashion Tops Women Love Now vs. Fashion Tops of Yesterday
There's no denying that styles have changed over the years. You might wonder how the tops of today compared to the tops of last season or last year.
How Fashion Tops Have Evolved
The fashion tops women are wearing this season include modern boho looks. You'll find romantic looks with flowy, puffed sleeves and ruffled necklines. If you don't want to go for a big wow factor with your outfits, some simplified versions of these trends are just as fashionable, and they'll look great with your everyday jeans. Compared to past trends, which were more form-fitting and bright, current trends are easier and more comfortable to wear every day.
Rocking Your Forever Favorite Look
Some trends never go out of style, including your favorite knit tops. This season, you can expect to find new looks, including smaller puffed sleeves and ruffled necklines. But you can always rely on your go-to styles, like knit tees and woven button-ups, to be the staples in your wardrobe. Wear them with anything, including jeans, skirts, and cargo pants for women. The best way to style your go-to tops is by wearing them with sleek jeans that fit your shape—denim that's designed to hug your curves and offer a "booty lift" effect. When you know what styles fit your shape well, you know what new trends will work best for you.
Whether you've picked up all the latest styles or you're sticking with the tried-and-true looks in your closet, you can find unique ways to rock them with your favorite jeans, shorts, cargo pants, and skirts. Ultimately, you should wear pieces that help you feel confident and comfortable all day. You'll definitely have some tops for special occasions like dressy dinners, holidays, and parent-teacher meetings. But it's the tops you'll wear for everyday activities—working around the house, going to the store, enjoying dinner with friends and family—that are the most important. Explore the latest trends and have fun styling.
##