Haute Couture + Haute Hotels = Haute Living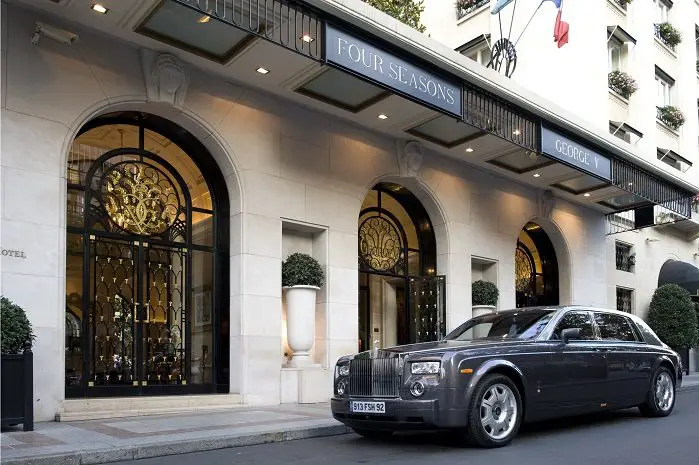 Paris' haute couture shows, at root, are an exploration of our ultimate ideas of sophistication. Mastery of form and color, yes, but also playfulness and just a little bit of imagination run amok.
In wanting to explore the more extreme side of things — where aesthetics begin to border on the obsessive — we couldn't resist looking at some of the top places a fashionista or bon vivant might stay while visiting the salons and ateliers of Paris' most outrageously imaginative shows.
Here at FWO, we're all about moving through our "bucket lists." (As much as we hate that term.) To that end, we've fearfully parachuted out of airplanes, spent way too much money on trips to destinations like Bora Bora, and generally bought way too many pairs of ridiculously expensive shoes.
Which brings us to the Four Seasons.
It's hard not to read biographies of people like Mick Jagger, Audrey Hepburn, or Bob Dylan without bumping inevitably into a mention of the Four Seasons Hotel George V Paris. Which is probably how the property — along with the newly renovated Ritz — ended up on FWO's collective bucket list.
While researching this story, we also decided to pick some three-Michelin-star restaurants in Paris. Alongside Alain Ducasse, Restaurant Guy Savoy, and Alleno Paris, we were pleased to add Le Cinq, which as of this writing is the #8 best ranked restaurant on TripAdvisor … making it the highest ranked three-Michelin-star restaurant on TripAdvisor.
Le Cinq is the highest ranked three-Michelin-star restaurant on TripAdvisor.
It also happens to be located right inside the Four Seasons George V. Now that's handy.
Dining Options
(From the Four Seasons Paris' three dining options: Le Cinq, Le George, and L'Orangerie.)


We spoke with the PR Coordinator for the hotel, to find out a bit about what's new, and what's remained the same at the George V.
The Interview
Q: Can you give us a brief history of the hotel from a fashion perspective: lists of fashion and music icons who stay or have stayed there while in Paris?
We would have loved to share with you our fashion and music icons; however, for our clientele's privacy, we are not able to share with you who has stayed with us exactly at the hotel.
We offer a secret back entrance for certain fashion and music icons, for their privacy and not to be bothered by too many fans at the entrance of the hotel.
We offer a secret back entrance for certain fashion and music icons.
(Editor's note: Some past luminaries can be found in Bercoff/Serieys' book Four Seasons Hotel George V Paris: A Parisian Legend.)
Q: What sets the Four Seasons apart from hotels such as the Ritz in terms of service and amenities?
Each hotel offers various different types of services and amenities. Our hotel and brand Four Seasons is well known for its flawless and personalized service for each client.
We have a very loyal clientele who come very often to the hotel and we make sure to give them a "wow" experience during their stay with us. We anticipate what the clients want before he/she asks for it and we go above their expectations as some of our loyal clientele we know their habits and know their preferences.
We make sure to give clients a "wow" experience.
Presidential Suite
In terms of amenities, Jeff Leatham, our Artistic Director, always likes to prepare magnificent bouquets for our clients for special occasions. In each room or suite, we have various flower arrangements to always make sure a room has flowers in it.
Eric Beaumard, Director of our three-Michelin-star restaurant Le Cinq, is also a world-famous sommelier, who has won Best Sommelier awards in France, Europe, and is winner of the World's Best Sommelier championship.
Mr. Beaumard selects tailored wines for our amenities to send up to our clients.
Q:Tell us about the importance of the Four Seasons' location near the Avenue Montaigne.
We are in the Triangle d'Or, which our clientele really enjoys as it is very close by the Avenue Montaigne [Paris' fashion district], Champs Elysées, the Arc de Triomphe, the Seine, and of course, the Eiffel Tower.
Our location is very central and is ideal for any client to go on an adventure by foot in Paris.
Also, our location is ideal for any type of receptions our clients would like to host, from a cocktail party to a fashion show, as we have wonderful spacious salons like our Salon Vendôme, which can host a fashion show, with another salon serving as a backstage to have more privacy.
Our Salon Vendôme can host a fashion show.
Royal Suite
On your next trip to Paris, be sure to visit the Four Seasons Paris George V. We will. As soon as we're able to pawn our car.
##
(Thank you to the Four Seasons PR team for information for this story.)
With love,
FWO