MAN/WOMAN AW23 is returning to Paris and New York few days. Here's a selection of brands to keep your eye on from January 20th to the 22th in Paris, and from the January 24th to the 26th 2023 in New York.

Sage De Cret (JP)
SAGE DE CRET was founded in 2001 in Japan. It was designer Kimitoshi Chida's desire to create something tasteful using meticulously selected & treated fabrics in Japan. Traditional utilitarian & militant menswear styles that pay respect to the history & tradition of fashion yet unconstrained by the conventional.

Sesa (IT)
We are shoemakers since 1976, founded in Marche, Italy. SESA Footwear is the result of our collaboration with Japanese designer Masahiro Wakabayashi, who outlined our heritage collection. An exploration through our original archive models and classic standards, highlighting our strong knowledge for moccasins and hand-sewn products, loyal to traditional craftsmanship.

LA PAZ (PT)
LA PAZ is a menswear label inspired by the Atlantic, its people and traditions. Our aim is to work in a straight relationship with some of the best local manufacturers, crossing their knowledge with a single approach to the design and the making of timeless and durable goods.
Naked And Famous (CA)
We are not a normal denim company and we never will be.
Instead of relying on celebrity endorsements and expensive ad campaigns, we devote all of our resources to sourcing the world's best fabric and turning it into awesome jeans. No advertising, no washes, no pre-distressing, no nonsense. Just excellent denim at a reasonable price. We travel to Japan multiple times a year to find new fabrics, working with denim mills to develop crazy things like glow-in-the-dark denim, cashmere blends, raspberry scratch-n-sniff, reflective denim, rainbow-fade denim and so much more. All of our products are proudly cut, made and sewn in Canada. Always have been, always will be. Crazy, right? We told you we weren't normal.
Breda (US)
Founded in 2009, BREDA is a lifestyle brand creating reimagined classics coupled with modern elements. Each timepiece is designed to be cherished—to collect stories, to live a long life, and to be rediscovered season after season. With a vision anchored in self-expression, BREDA aims to form inclusive collections, collaborations, and conversations—celebrating individuality and ever-evolving personal style.

andersen-andersen (DK)
Andersen-Andersen is a family-owned Danish company established in 2009 by Cathrine Lundgren-Andersen og Peter Kjær-Andersen (1964-2018). We design and manufacture a functional, unisex workwear collection. Our focus is high-quality knitwear that references Danish maritime traditions and craftsmanship. Born from the idea to make the world's best sailor sweaters, our garments are designed in Denmark and made by the best knitters in Italy using the most sustainable raw materials available.

Jungmaven (US)
The Jungmaven AW23 collection illustrates a future of fashion that treads lightly on the environment. By choosing to wear hemp, we capture thousands of pounds of excess CO2 and put it back into the soil where it begins to restore balance in our natural world and reverses the negative effects of climate change. Structured jackets, exquisite textures, and extra durable hemp/wool blended wovens are the foundation of the line– with brilliant new hemp fabrics including denim and corduroy. JM AW23 is the rush you feel after a frosted winter run or a corduroy wave day of surf. It's the zen moment, where our inner world meets the outer world. We hope you enjoy it as much as we do.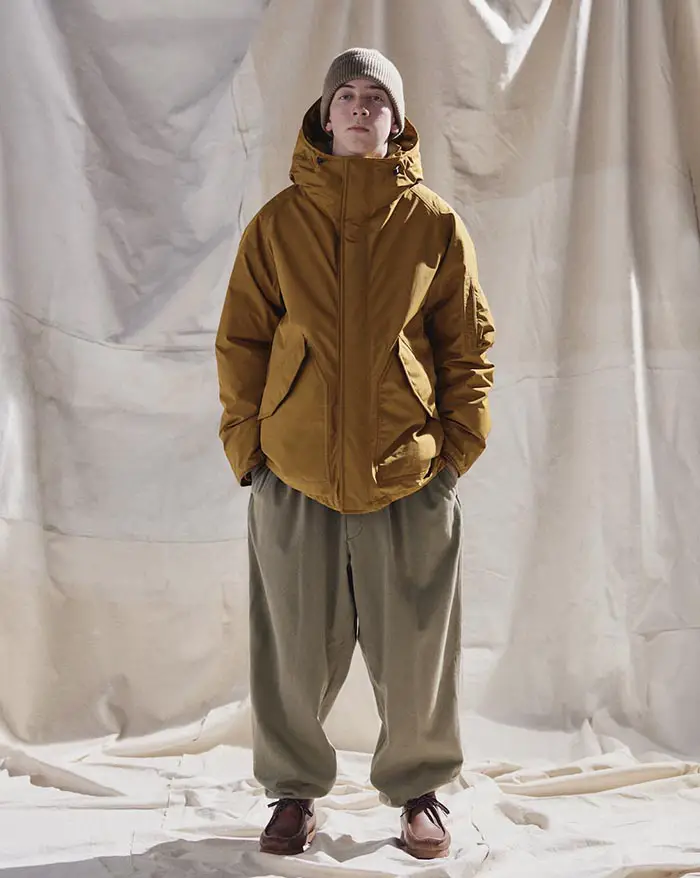 Nanamica (JP)
One Ocean, All Lands(The ocean is one and the world is connected) is our motto at nanamica.
Our unchanging theme is to create simple, beautiful, neutral items with advanced functionality
that are considerate of the environment that people all over the world can love and use.

Merz b. Schwanen (DE)
We are Merz b. Schwanen.
We make original, organic, simply good basics. Garments for all, who appreciate good timeless design, and reliable products to look and feel good every day! We are guided by the idea of bringing more calm and ease into your daily life and the world.
##
Learn More
manwomanshows.com
@manwomanshows
With love,
FWO