When Everything New is Old … Again
Fashion and its trends are best understood as a circle, traveling round and round, forever arriving in the same places, but in different forms. Fashion is cyclical. Your mother has likely said it in reference to something from decades past that she gleefully pulled from her closet.
It's not a revolutionary thought; it's well known to the point of being hackneyed.
So why bother discussing it? In light of the recent media recycling in the past couple of years, I couldn't help but see the same sort of reusing in our clothing. There's comfort in what we know, comfort in something that's a sure buy (which is really, really comforting for those trying to sell you things). But although the idea of recycling trends may seem "green" at first, in fact it becomes rather tiresome, and ultimately wastes more than it saves.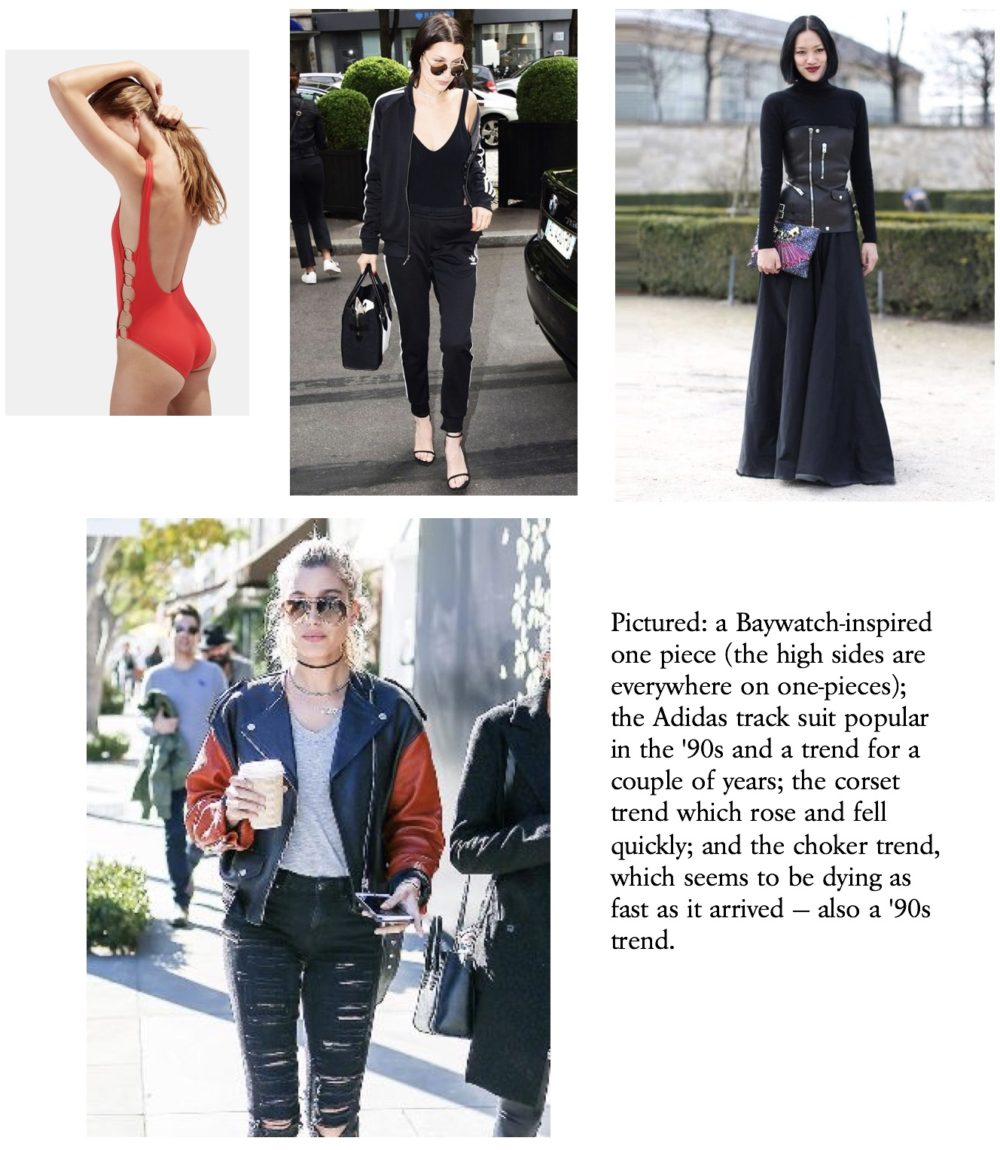 This became clear when I saw an ad for the movie of the '90s series Baywatch, which to me was so bafflingly similar to the hundreds of other revamps: the live-action versions of Disney classics, the dozens of superhero films, and even the mystifying rework of the charming world of Archie comics (which broke my heart when I realized the gravity of the series). It's a cyclical world, not in inspiration, but in simple redressing.
It's a cyclical world, not in inspiration, but in simple redressing
In the past, trends have resurfaced in new ways, and I'd be incorrect and remiss to say they aren't ever new now. Designers are as innovative as ever. The difference, as I see it in my youthful naïveté, is the longevity of such things.
I can think of a number of trends that blew up in the last couple of years that are already on their way out for the next, new thing. Typical trends last about five years and some schools of thought say fashion cycles about every 20 years. This, of course, isn't quite correct in the "modern" age of fashion. "Fast fashion," social media, and a widespread cultural nostalgia are the factors I would attribute to changing the lifespan of trends.
After all, the public sees a show live — or in posts — moments after it takes place. Celebrities may be able to snatch the genuine designer article, but fast fashion companies make variations at lightning speed for the public's consumption. The next thing rolls out, in repeat, except at speeds that compromise quality and forward motion.
speeds compromise quality and forward motion
And the availability of high fashion styles can be a good thing; in any case it's fairer to the fashion-loving consumer, though an abundance of choices isn't in itself a good thing. For all of the options, many products come out looking very similar or exactly the same as the original and, for the entire keyworded popularity of social media, many of us end up looking like variations of the same thing too.
many of us end up looking like variations of the same thing
To be trendy or not to be, that is the perennial question.
Of course, the universal disclaimer in fashion is to do whatever you please, but in making such choices, the knowledge of what's leading you to abandon the choker might lead you to a long-lasting and far more original answer.
##