What's the History of "See Now, Buy Now" Fashion?
In September 2013, Diane von Furstenberg launched a video that made very little noise. The video — by a company called Clicktivated — was for DVF's Spring '14 "Oasis" collection.
(A non-clickable version is still available at the DVF Facebook. The clickable version is embedded below — as long it remains on the hosting server, anyway.)
Was this video the birth of "see now, buy now" shopping? Short answer: We don't know. (Sorry for the letdown.) But it's the earliest "big name" clickable / shoppable video we know of.
(And totally separate aside: before Karlie Kloss was DVF's main girl, there was the insanely gorgeous Daria Werbowy. And if you want to see more of the NCompletelySFW shoot by Mert Alas and Marcus Piggott, click here.)
Was this the birth of "See Now, Buy Now" shopping? Short answer: We don't know.
Now there's a host of companies in the "see now, buy now" space, from Shoppable to Cinematique, to companies we know very little about like Wirewax and ClickableVideo.eu.
Each offers a different range of features: some are clickable. Some are not. Some are best on mobile; others on desktop.
Some are clickable. Some are not.
But why the sudden boom?
It all traces back to changes in fashion week itself. And that change can, in turn, be traced back to a pivotal moment in the world of fashion: the first prominent live-streaming videos of fashion week.
It can all be traced to the first big live-streaming video of fashion week.
And for that, you can thank London.
In February 2010, Clara Mercer, Marketing Director of the British Fashion Council, announced that they would launch the "first LFW Digital Schedule, live streaming the shows from Somerset House to the London Fashion Week site." The move was pioneered by a digital broadcast agency called Streaming Tank.
In February 2010, London Fashion Week launched the world's first "digital" schedule.
Burberry was swift to take advantage of the technology, live streaming a star-studded 3D show. (So perhaps it's not surprising that Burberry was the first widely-reported brand to embrace a full-scale "See Now, Buy Now" model in 2016.)
It's worth mentioning that while London was rolling out a full schedule of live-streaming shows, Marc Jacobs and Calvin Klein were hosting live streams of their own in New York. And it was around this time the "democratization of fashion" phrase started finding new life.
It was around this time the "democratization of fashion" phrase found new life.
Whereas this term was once applied to broader (but no less revolutionary topics) as the emergence of ready to wear, in 2009 it was live streams of previously inaccessible shows like Alexander McQueen that led writers to start applying the term to a new kind of revolution.
(Yes, in 2009 it was considered "revolutionary" for sites to be posting images of fashion shows almost immediately after each show! Now, of course, there are excellent sites like NowFashion who do nothing but.)
By September 2010, New York was on board, in a big way. Although it was a smattering of the total schedule, the shift to fashion week as a consumer-facing proposition had begun.
Around this time, sites like our own FashionWeekOnline.com (then called LiveRunway.com), began hosting and organizing the live streams. (There were other excellent sites as well, such as CatWalkLive.TV and FirstComesFashion.com.)
By September 2010, New York was on board, in a big way.
In 2012, growth of the live streams was accelerated by partnerships like those between Mercedes-Benz Fashion Week and Rightster.com. Rightster.com allowed third-party websites (including bloggers of every conceivable size and audience) to embed the live streams.
Not long after, came the backlash.
Many designers bemoaned the loss of the "exclusivity" element, and — in New York — the loss of the intimacy and camaraderie that were part of the shows at Bryant Park in the '90s. While it's easy to blame a sense of entitlement or snobbery, the fact is that the "Big 4" fashion weeks were created primarily as industry events designed for two groups: the press — whose job was to write about collections — and store buyers, who needed to be able to see the clothes in real life, and even touch the fabric, in order to place orders.
The recoil came in December 2013. Although the headlines generally exaggerated the situation, the fact is that a perceived "glut" of bloggers was indeed one of several complaints from designers. And as a result, IMG Worldwide (who ran "MB Fashion Week New York") responded by limiting attendance.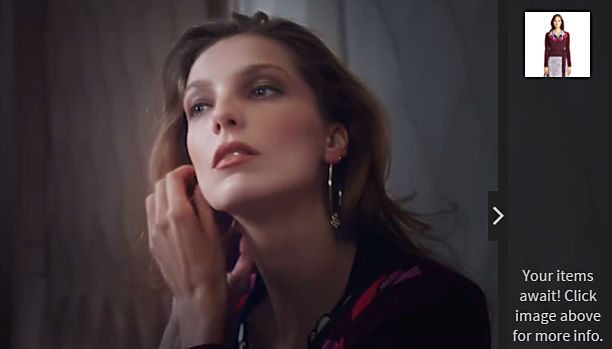 As it turns out, the new push back toward exclusivity didn't last long.
Which is where we are now.
Although "see now, buy now" shopping is nothing new, actually embracing fashion week — as something to directly reach the consumer — is. And it seems to have reached some sort of critical mass in 2016.
There are hold-outs, to be sure. A number of French fashion houses seem opposed to the idea. And they've found support in the Fédération Française de la Couture du Prêt-à-Porter des Couturiers et des Créateurs de Mode (a very long name for an organization, to be sure).
But with big brands like Tom Ford, Burberry, and Rebecca Minkoff on board, it's becoming harder and harder to turn back the clock.
And if adding little clickable icons seems like only a small thing, in the grand scheme of things it's not so small: because the attendant change to "in-season shows" affects the very structure of the fashion calendar itself.
The change affects the very structure of the fashion calendar itself.
No matter what happens, "see now, buy now" is what's happening now.
And here at FWO — as always — we're just happy to take you along for the ride.
With love,
FWO