Stuff That Interests Us This New York Fashion Week
 
WARNING: There are a lot of designers to see this New York Fashion Week. Like, a WHOLE lot. These were just the ones that popped out at us. So don't be afraid to see all the shows, miss work, and get fired. Wait wait, don't do that, please. Because then we'd feel sad, and want to bail you out, and take an extra job, then be too tired to go to work, and then get fired ourselves. And would that help the economy? Nooooo.
FEBRUARY 6 – OFFLINE
DEPESHA MAGAZINE: Russian Fashion Industry Presentation and Reception
We're big fans of the burgeoning Russian fashion industry. That's probably why we're so excited about Russian Fashion Week, which will be live-streaming on March 29.
And that's why we're also excited about the Russian Fashion Industry Showcase and Reception, being held by DEPESHA magazine and the Consulate General of the Russian Federation in New York.
The showcase will feature original works by established and emerging Russian fashion designers, photographers and stylists. The event will take place on Wednesday, February 6th, 2013 from 6:30 pm to 8:30 pm, inside the Consulate General of the Russian Federation on the Upper East Side in New York City.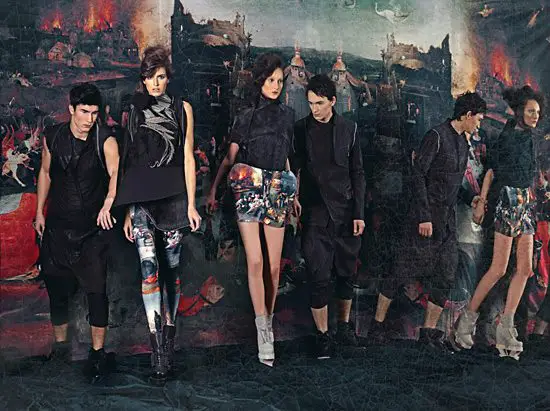 FEBRUARY 07 – LIVE STREAMING, 6 PM
CONCEPT KOREA
How can we avoid a reference to "Gangnam Style" here? Well, very easily. And we ought to (avoid it, that is), because it's so painfully predictable. But at the same time, how can anyone ignore the emergence of Korea onto the international style stage?
And speaking of cool (or corny, depending on your taste) K-Pop videos, what about "Poison" by K-Pop girl-group Secret? It's as if Madonna got reincarnated in Seoul and woke up in Golden Earring's "Twilight Zone".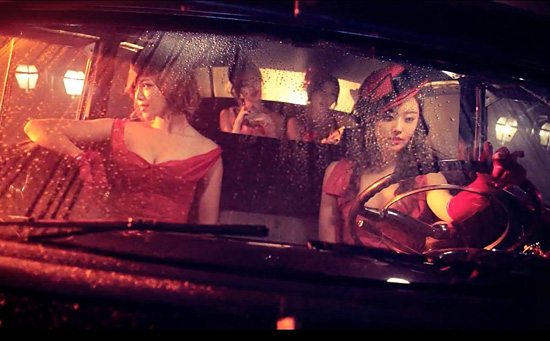 But we digress. Shame on us. Concept Korea is a collaborative presentation to promote Korean fashion designers and assist them in their attempts to break into the U.S. fashion market.
Here are a couple of looks (well technically, three looks) from just one of the collections, KYE by Kathleen Hanhee Kye. The others will be SON JUNG WAN by Son Jung Wan, CHOIBOKO by Choi Bo Ko, CRES. E DIM by Hongbum Kim and LIE SANG BONG by Lie Sang Bong.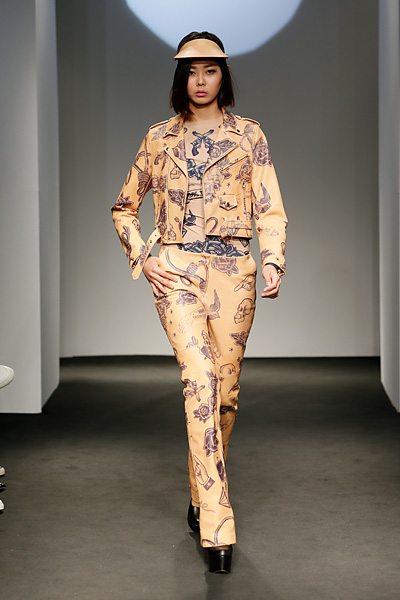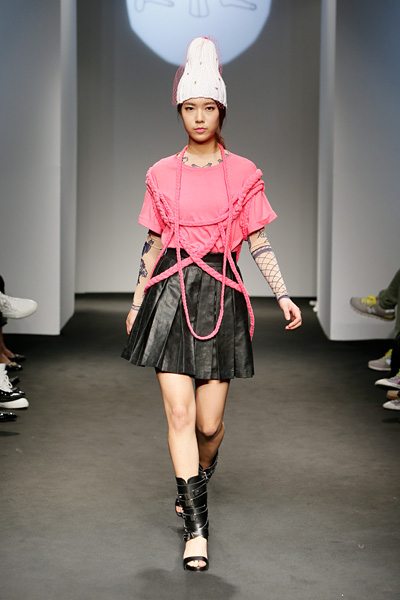 There's a bit of harajuku going on in here, we think. (You know, Japanese street fashion like cool people in Fruits wear, where they combine paisley knee-socks with a Tartan plaid skirt, and make it look easy?) But with a touch of Korean mafia tattoo chic, which is a little disturbing, unless we just keep it in the fashion arena, in which case hey, heh heh, we're not afraid.
FEBRUARY 8 – LIVE STREAMING, 8 PM
ACADEMY OF ART UNIVERSITY
New talent. Since 2005, the School of Fashion has premiered the collections of recent graduates during Mercedes-Benz Fashion Week. (Sorry, we couldn't think of anything funny.)
"Part of our commitment to the designers is to help launch their careers and have their collections seen by industry professionals," said Dr. Elisa Stephens, President of Academy of Art University.
For the 2013 show, there will be eight women's wear collections, two of which are collaborations between Fashion and Textile Design students, and one collaborative collection sponsored by UBIFRANCE, the French Trade Commission.
Jie Jessie Liu was born and raised in Penglai, in the Shandong Province of China, and earned her B.F.A. in Accounting from York University in Canada. At Academy of Art University, she has earned her M.F.A. in Fashion Design. Liu's designs were also presented at the University's Spring 2012 Fashion Show as part of the Italian Trade Commission Collection, and she earned second place in the Inspired by Vitamin Water design competition that was judged former Project Runway finalist Mondo Guerra. Liu collaborated with Textile Designer Tanja Milutinovic for her Spring 2013 collection. She was inspired by the artist Anish Kapoor, known for his geometric, streamlined sculptures and installations, which she interpreted in the garments' sharp lines and angular silhouettes.
Tanja Milutinovic is originally from Belgrade, Serbia. She reinterpreted the silhouettes for women's wear, maintaining an oversized look, and experimented with collar and lapel structures.
Liza Quiñones was born in the Bronx and grew up in Valley Stream, New York. Quiñones designed textiles for Jisun Lee's Spring 2013 collection.
Iglika Vasileva Matthews is originally from Bulgaria. Hadid's structures often create an illusion of movement in static objects, which Matthews sought to replicate in her collection.
Yanfei Fan was born and raised in Shijianhuang, in the Hebei province of China. Fan was inspired by the windows in modern buildings, including their repetitive patterns, angular shapes, and the transparency of the glass.
Ginie C. Y. Huang was born and raised in Taiwan. She was inspired by the work of Ninagawa Mika, one of Japan's most popular photographers. Huang was inspired by the feeling that Mika's images invoke – a feeling of being completely immersed in the colors.
Stephina Touch was raised in Bakersfield, California. Touch looked to traditional Asian architecture when designing her Spring 2013 collection, gleaning inspiration from the clean lines and tiled roofs.
Jarida Karnjanasirirat is from Bangkok, Thailand. Karnjanasirirat wanted to mimic the structure of relief sculptures – in which elements of the sculpture are raised from the background. She created three dimensional collars, lapels, and pleats, bringing her inspiration to life in her garments.
FEBRUARY 8 – LIVE STREAMING, 9 PM
PARKCHOONMOO
We just love this. Enough said. On Model Mayhem (which is getting creepier and creepier … anyone else notice that?), they always tell you not to include "my work speaks for itself" in your bio. But this sort of does. Speak for itself. It just looks great. What more is there?
Now for the fluff:
Park has been at the forefront of Korean avant garde design since 1988, when she launched her label DEMOO. Subsequently, she launched her eponymous line, PARKCHOONMOO.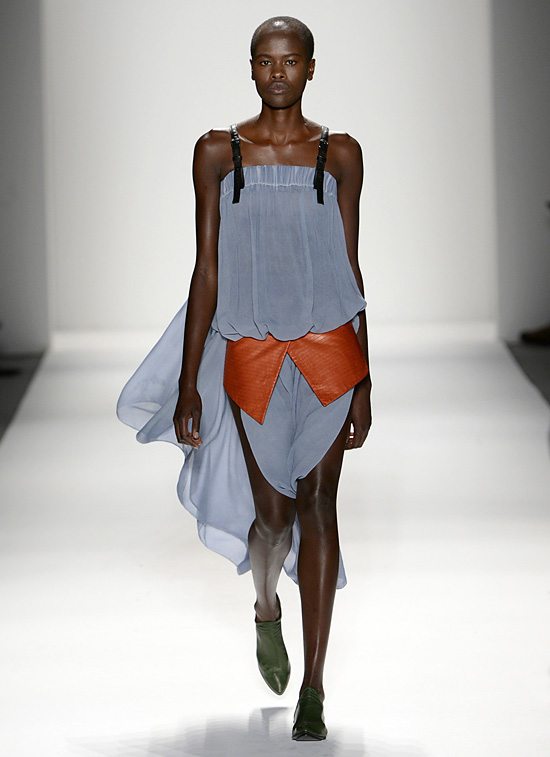 Underlying her edgy but wearable designs is an artistic sensibility and superb fit derived from couture roots translated into ready-to-wear. Park favors the striking impact of monotones such as black and white, punctuated by counterpoints of color, and layering to create new combinations that have become a signature of the PARKCHOONMOO aesthetic.
FEBRUARY 11 – UNCONFIRMED LIVE STREAMING, 9:30 AM
MATHIEU MIRANO
It's a semi-little-known fact (or maybe just a semi-known fact) that Star Wars was based on legendary Japanese filmmaker Akira Kurosawa's samurai film, The Hidden Fortress.
Some the these designs from Mathieu Mirano show how, properly imagined, the future might yet be a soothing combination of feudal Japanese simplicity and futuristic efficiency.
The thing is, when you're trying to text your BFF (who lives on the next starship) and fight off a bunch of misbehaving humanoid robots, you want the freedom of motion a kimono provides, and to look your best.
We think these are really beautiful. Fashion forward, daring, with a hint of the traditional. The third one might be a bit much for our taste, but for a reception held among the stars, you need something to compete with the supernova happening outside the bay windows.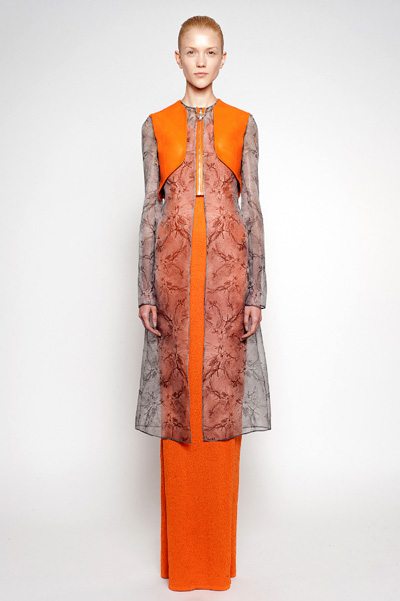 Born in New York, Mathieu Mirano attended the Huntington School of Fine Arts before studying at Parson's School of Design in New York City. Mathieu launched his debut collection in 2011 through his inspired inventiveness and unique sense of fashion. He effectively utilized high levels of construction, craft and imagination.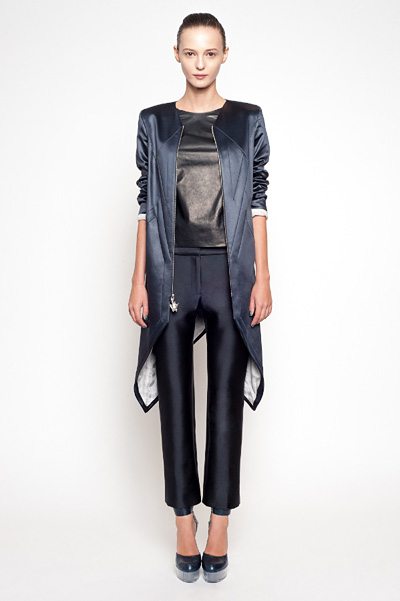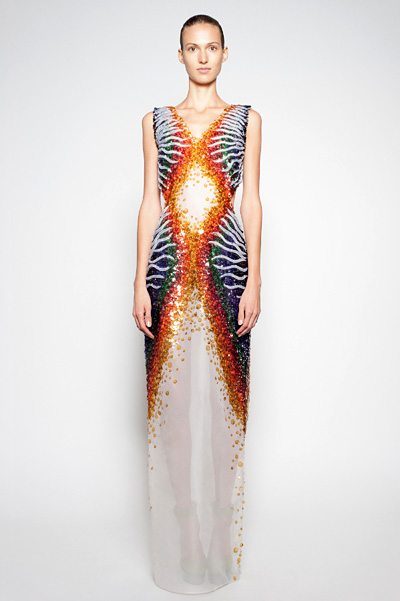 FEBRUARY 12 – LIVE STREAMING, 11 AM
VERA WANG
She had a line at Kohl's, so you know she's cool.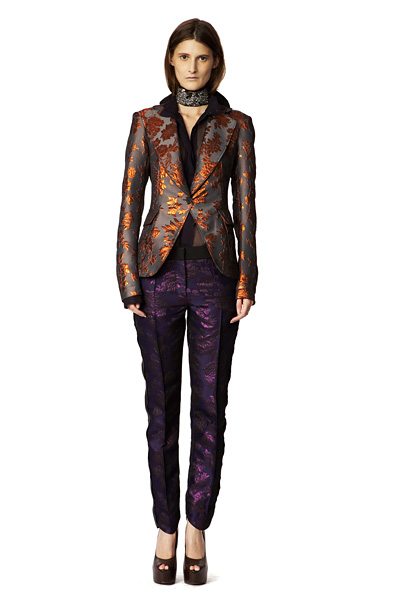 Vera Wang has created a unique aspirational world that alludes to sensuality and youthful sophistication. Exquisite details, intricate draping and a nonchalant sense of style characterize the Vera Wang aesthetic.
Vera Wang, a native New Yorker, understands women who embrace fashion. By age 23, Vera was the youngest ever Vogue fashion editor and stylist where she remained for 16 years before moving to Ralph Lauren as a design director. In 1990, Vera Wang opened her first flagship store on Manhattan's famed Madison Avenue, introducing fashion to the bridal industry with revolutionary designs and refined detailing. Since then she has expanded her collections to include ready-to-wear, footwear, eyewear, fragrance, flowers, china and crystal, silver and gifts, bedding, fine papers and her first book, Vera Wang On Weddings.
In 2005, the Council of Fashion Designers of America awarded Vera "Womenswear Designer of the Year". Vera further established herself as a style authority in 2007 by sharing her modern sensibility with millions of American women through her Simply Vera Vera Wang line available at Kohl's department stores nationwide.
2010 marked Vera Wang's 20th Anniversary as a brand, a celebration of two decades spent at the forefront of fashion.
FEBRUARY 12 – LIVE STREAMING, 1 PM
JENNY PACKHAM
We once met some guy with the last name "Kent," and when we called him "Clark Kent" just to try and make him laugh, and asked if "anyone had ever told him that," and he looked at us like we were total idiots, we realized we really were amazingly lame. So when we say "Jenny Packham really packs 'em in," as in like, "really packs fashion in," you'll realize we never learn from our mistakes and really are unconscionably dumb.
Maybe one day we'll learn. Not today.
Anyway, we love this puzzle-tastic design: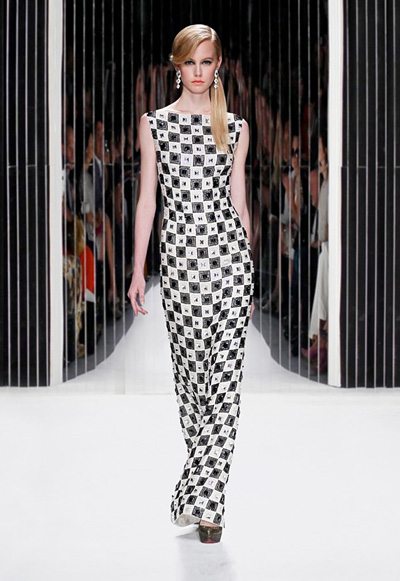 Packham's designs are regularly selected for stylistically acclaimed television and film productions. Most recently, cult US TV series Gossip Girl dedicated an episode to a Jenny Packham show presentation in New York modeled by the lead characters. Other high profile productions featuring Packham's designs include James Bond's Casino Royale and Sex and the City.
Red carpets the world over are graced with her sumptuous designs, from Angelina Jolie, Cameron Diaz, Rhianna and Beyonce to Keira Knightley, Reese Witherspoon, Jennifer Aniston and The Duchess of Cambridge.
FEBRUARY 13 – LIVE STREAMING, 5 PM
FALGUNI AND SHANE PEACOCK
We once saw a super-ornate Dolce & Gabbana shirt at a store in Beverly Hills, that would have cost two months' rent to purchase. It had a picture of a golden cup with sunbeams coming out of it, and a lion on the back, and maybe even a series of Doric columns like the Parthenon.
We snickered at the D & G shirt, at first ("What is this, some sort of hideous Ed Hardy tragedy?"), and decided to try it on. Suddenly we had to admit, the fit was … nice. And it was sort of fun. If you were holding a party on a boat sailing the Greek islands, you would really want to wear this. People would feel a bit of relaxation, we thought. "Let's not take ourselves too seriously," it seemed to say. "Let's just have fun today."
We still couldn't afford it. But we had to admit, it was something. We sort of feel that way about this, from Falguni & Shane Peacock. It's loud. It's fun. It's sort of masterful.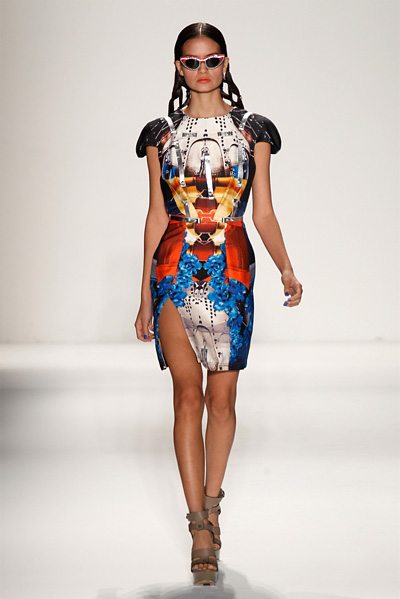 Falguni & Shane Peacock have built a career in fashion by following their own set of rules. The secret of their success is the unique and unusual styling and attention to detail they give to each design to create "Luxury".
"We love the idea of elegance and intricacy, whether it is in a scarf or an haute couture garment. Our sensibility, combined with a touch of high octane glamour and our devotion to rock and roll – the transition from chic to edgy, combined with a slightly wicked charm makes our clothes perfect for a rock and roll superstar."
FEBRUARY 13 – LIVE STREAMING, 6 PM
ANNA SUI
Do you have a nerdy friend, completely out of touch with the world?
And yet, you find yourself envying their magical little universe, that doesn't need anyone else? We have friends like that. But then, we once had a unicorn collection.
Anyway, that's what we love about Anna Sui. She lives in Magic Land. We just get to visit there.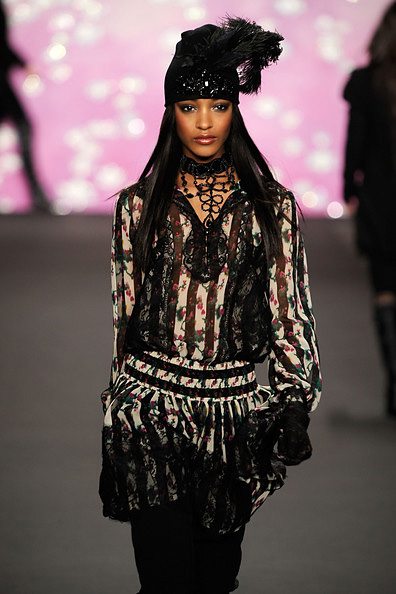 Anna Sui has a worldwide cult following who look to her each season for ironic mixes of romantic nostalgia and rock-and-roll glam. Born in Detroit, Sui came to New York to study at Parsons School of Design. Her first runway show premiered in 1991. The next year she opened her original retail location at 113 Greene Street in Soho; with its iconic lavender walls, red floors, antique black furniture, and signature dolly head mannequins. She won the CFDA Perry Ellis Award for New Fashion Talent the same year, and in 2009 she received their prestigious Geoffrey Beene Lifetime Achievement Award. Anna Sui has 50 boutiques and is sold in over 300 stores worldwide. The Anna Sui line also includes very popular fragrance and cosmetic ranges, and 15 total licenses. Anna Sui designs and manufactures from her New York City headquarters.
Boy, we're really tired after writing all this. No one told us we'd be doing any work.
Well, enjoy!
##